First customers
Welcome to TYLERBOLD's online store.
It is the first time, but what should I choose?
Please check your own waist size first
Please select the TYLERBOLD Brand from your favorite size. The size is different due to each manufacturer and the fit is different. Therefore, please select the size of your favorite use as a size confirmation as first for first. When purchasing the second time, I think that the size will be decided naturally. We also suggest that you want to spend relaxing and sending a tightening feeling, etc.
About pattern (type)
The pattern (type) recommends High Leg, Target, Amanda, which is a representative of TYLERBOLD. And try Super Bikini and Thong. Mesco Bikinis, will be purchased after understanding the characteristics of TYLERBOLD.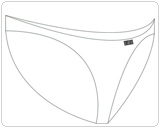 High leg

length (in the crotch): High ☆☆★☆☆ Low, Level3

These bikini briefs are Level four and have a Low rise. This design is very popular because it provides a comfortable pouch that supports you as well as a low rise back that fits your shape well. Because our customers frequently choose this design, we are always working to improve upon it. We hope you will discover this wonderful bikini underwear. It will change your life! We are proud of the craftsmen who manufacture our underwear. It requires great skill. They are made with the supervision of our owner.
Target

length (in the crotch): High ☆☆★☆☆ Low, Level3

Target is low rise (level3) in front and back with a roomy pouch. It is one of TYLERBOLD most popular designs because it targets a balance of coverage, fit, and style.
Amanda

length (in the crotch): High ☆☆★☆☆ Low, Level3

Amanda has expanded its sides based on the pattern of the No. 2 popular target. The reason for widening the sides is to reduce the sexy and maintain the volume of the front porch. Amanda recommends that you use it in the gym changing room or in a publicly visible place. Rise is a level 3 Japanese-oriented pattern.
(It is a pattern with a pattern with a pattern.)
You can grasp the attractiveness of TYLERBOLD brand if you experience High Leg and Target. If you experience other patterns that are high-level levels, you can enjoy a pleasant view of the world.